Nadia lives by Spanish philosopher Jose Ortega y Gasset's words: 'I am I plus my surroundings, and if I do not preserve the latter, I do not preserve myself.' This links back to all the great influences in her life, including her parents and previous leadership teams she's worked for.

Nadia explains: 'I am thankful for positive influences in my life and I do not attribute my personal journey to any one person. Inspirational people and experiences have played an important role in the continuous development of my professional career and I'm grateful for the opportunities I've been given. I have worked for institutions with exceptional people, built on sound principles, and at their core incredible leadership structures which have had a profound impact on my life. My parents are an inspiration and make a big difference in the communities they serve. Growing up, my brothers and I were surrounded by various impact initiatives, which formed a large part of who we are today.

'One such initiative is the Sešego Foundation, which her mom founded 14 years ago and for which Nadia is a passionate ambassador. Sešego was established to make a sustainable difference in the lives of vulnerable people in South Africa. The ethos of Sešego hinges on the spirit of ubuntu to mobilise people willing to offer their time, skills, and donations to help various socially significant projects in communities across southern Africa. The foundation is making a real difference, having touched the lives of over a million people, and financially and in-kind contributed in excess of R38 million to help communities so far.

Says Nadia: 'I support Sešego because of its measurable impact initiatives and strong governance structures. We need more investable causes such as Sešego, and that's where I believe the profession can play a big role.'

'We are responsible for one another; the future is dependent upon a network of socially responsible citizens.'

The chartered accounting profession can put these words into action, explains Nadia, by using specific, established skill sets to make a meaningful impact. Sešego is just one example of what can be done.

With over 100 000 registered not-for-profit organisations in South Africa, Nadia believes we can make a real difference in while protecting resources, challenging injustices, and welcoming new possibilities.

Some of the key challenges business leaders – especially CSI causes – face is to produce meaningful reports, ensure compliance, and address sustainability. 'Integrated reporting, in particular, is invaluable and provides a framework we can utilise to assist CSI causes to demonstrate how they create and sustain value to attract more supporters for their cause. It allows us to demonstrate an ethical code of conduct to address the issues of environmental, social and corporate governance, as well as sustainability, sound financial management practices and socially responsible investing, while promoting transparency and good corporate governance,' says Nadia.Another challenge faced by CSI causes is access to good quality and trusted impact data and analyses. This presents another opportunity where the profession can make an impact. CAs(SA) can introduce innovative ways and improved solutions to track and measure the impact of projects. If CSI causes can quantitatively illustrate the impact of their initiatives, they can energise and mobilise volunteers and supporters to further develop vulnerable individuals and communities.

Through awareness of the profession's responsibility to promote and support sustainable goals, Nadia feels the profession can leverage its leadership role in society and become a critical player by creating value in protecting resources now and in the future. As CAs(SA) we have an opportunity to differentiate ourselves and become a centre on excellence for research and advice to support the UN's SDGs.

Nadia believes we all have a responsibility to live our lives in a socially, economically and environmentally conscious way, in line with the UN's SDGs. She says we can do so not just on a business level but on a personal one too, which includes something as simple as supporting local entrepreneurs, artists, products, and socially responsible businesses that give back to communities.

For those inspired by Nadia's story to support CSI causes and transform the world community by community, she shares a snippet from Mary Oliver's poem 'The Summer Day': 'Tell me, what is it you plan to do with your one wild and precious life?'

There are myriad ways the chartered accounting profession, both as individuals and overall, can make a sustainable contribution. The success of CSI causes overall is largely dependent on the collective, whether investing financially in the cause, creating awareness or giving of time through volunteering or mentoring.

So let's each make use of our own talents and strengths and help make the world a better place. Here are some of the ways you can make a difference:
• Mentoring and providing strategic guidance to entrepreneurs, small businesses and NGOs as future business leaders
• Sponsoring a student or providing internships for in-house training
• Sharing ideas and fostering innovation with the industry
• Supporting, transferring and teaching financial literacy
• Sharing insight into good corporate governance and compliance principles• Incubating new or start-up businesses, which are critical to the success of our country given the high unemployment rate
• Introducing innovative ways and improved solutions to track and measure the impact of projects

You can take things a step further by adopting an SDG and partnering with a CSI cause or platform such as Sešego, which can assist you to identify additional opportunities or investable causes through which to make an impact.

Professional volunteers are the key to delivery of the sustainable development goals faster and more effectively – so heed the call to stand up, stand for a cause and take action today.
New Youth Exchange promotional graphics
Share your pride in Rotary Youth Exchange with our graphics and new GIFs.
Post and share them on social media to show you love Rotary Youth Exchange!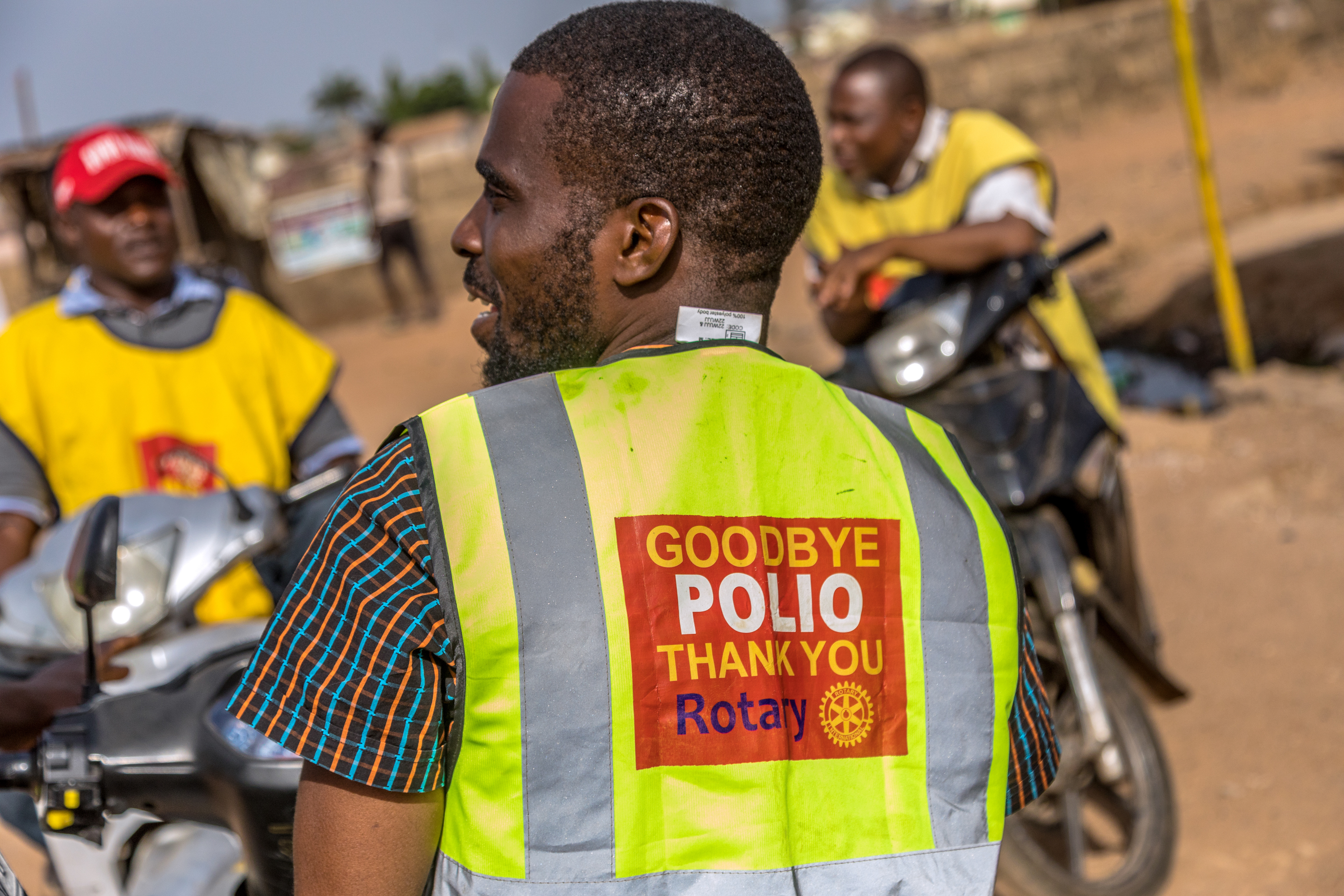 It's been three years since health officials last reported a case of polio caused by the wild poliovirus in Nigeria. The milestone, reached on 21 August, means that it's possible for the entire World Health Organization (WHO) African region to be certified wild poliovirus-free next year.
Nigeria's success is the result of several sustained efforts, including domestic and international financing, the commitment of thousands of health workers, and strategies to immunize children who previously couldn't be reached because of a lack of security in the country's northern states.
"Rotary, its Global Polio Eradication Initiative partners, and the Nigerian government have strengthened immunization and disease detection systems," says Michael K. McGovern, chair of Rotary's International PolioPlus Committee. He adds: "We are now reaching more children than ever in some of the hardest-to-reach places in Nigeria."
McGovern says Rotary members in Nigeria play an important role in ridding the country of the disease. "Rotarians have been hard at work raising awareness for polio eradication, advocating with the government, and addressing other basic health needs to complement polio eradication efforts, like providing clean water to vulnerable communities."
Nigeria is the last country in Africa where polio is endemic. Once Africa is certified as free of the wild poliovirus, five of the WHO's six regions will be free of wild polio. Polio remains endemic in Afghanistan and Pakistan, which means transmission of the virus has never been stopped.
Dr. Tunji Funsho, chair of Rotary's Nigeria National PolioPlus Committee, acknowledges the milestone but cautions Rotary members about celebrating too soon. He cites the challenge of making certain that routine immunizations reach every child in Nigeria.
"It's paramount that we ensure all doors are locked to the re-entry of the wild poliovirus into our country," says Funsho.
Funsho says to achieve this, Rotary needs to maintain strong advocacy efforts, continue to increase awareness of immunization campaigns, and ensure members raise necessary funds. Rotary has contributed $268 million to fight polio in Nigeria.
"As the first organization to dream of a polio-free world, Rotary is committed to fulfilling our promise," says McGovern. "Our progress in Nigeria is a big step toward that goal, but we need to maintain momentum so that Pakistan and Afghanistan see the same level of progress."
Join Rotary on World Polio Day, 24 October, to celebrate our progress. Help us reach our goal of a polio-free world by donating today.
Rotary's 2019 World Polio Day Global Online Update highlights the frontline workers who make polio eradication possible and the milestones that the program achieved this past year.
Subcategories