Details
10 years into the Rotary-USAID water and sanitation partnership, here's what worked, what didn't — and why
By Diana Schoberg Photography by Andrew Esiebo
An old piece of railroad track is laid across a pit toilet. The walls are crumbling. The stench is overwhelming. It's the only toilet for a school in rural Ghana, and most children refuse to use it. They do their business outside instead — or quit school altogether.
This is an all-too-common experience: Half of Ghana's population lives in rural areas, and only 10 percent of those people have access to basic sanitation. Two-thirds can obtain safe drinking water — after a 30-minute round trip.
Since 2009, Rotary has been working to fix those deficiencies through a partnership with the U.S. Agency for International Development (USAID). The partnership combines the business skills and local community leadership of Rotarian volunteers with the technical expertise of USAID. Rotary is contributing $9 million to the $18 million partnership; outside of eradicating polio, it is Rotary's largest partnership effort. "We wondered how these two organizations could come together and exploit the synergy between them," says Rotarian Ron Denham, a member of the Rotary-USAID steering committee.
Ghana was one of three pilot countries when the program kicked off. Projects were implemented in two phases: Phase 1 concluded in 2013, and Phase 2 will end in 2020. "As a result of this partnership, we've been able to reach out to some very deprived communities," says Emmanuel Odotei, WASH management specialist for USAID/Ghana. "If USAID had tried to do this alone, or if Rotary had done it alone, we would never have achieved as much as we have today."
Throughout, the focus of the program has been on accomplishing three goals: improving sanitation and hygiene in schools and health facilities; increasing community access to safe drinking water; and advocating for ample government financing of WASH — that is, water, sanitation, and hygiene.
"We wondered how these two organizations could come together and exploit the synergy between them."
By the numbers
Rotary-USAID in Ghana
(projected through 2020)
174 latrine blocks (primarily in schools)
166 community hand pumps
6 mechanized boreholes
3 reticulated water systems
Benefiting more than 160,000 people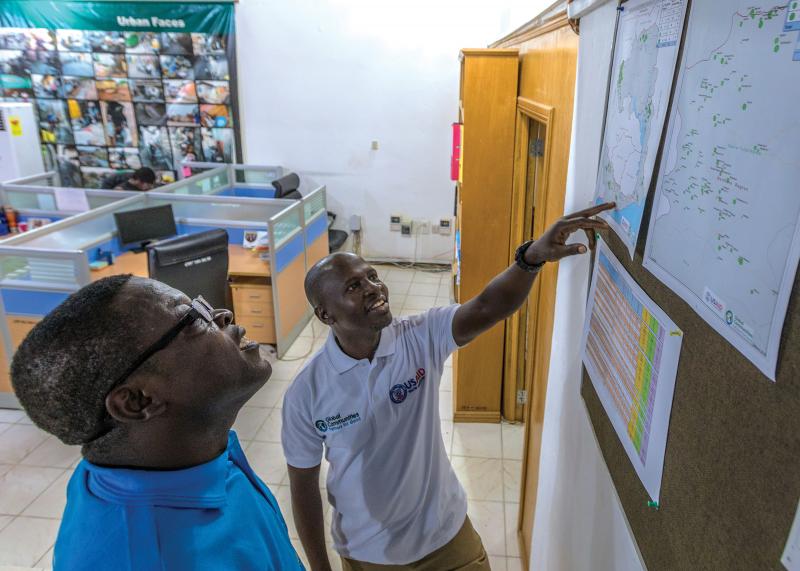 Details
Conducting a community assessment is a critical first step to ensuring the long-term success of your project (and it's required for global grants). Rotarians dedicate countless and precious volunteer hours to fundraising and developing and carrying out projects, and a community assessment serves as protection for this investment. The assessment affirms that community members will benefit from the project and were involved in developing it, which means that your project will be nurtured, and its impact will last for years. Rotary's Community Assessment Tools provides tips and resources for conducting your assessment.

Remember that the project proposed in a global grant application should always respond to the findings of a community assessment. The project may be completely different from what you assumed was needed before doing the assessment.
Details
Programs of scale grants are competitive new grants designed to respond to a need that a community has identified. They will benefit a large number of people in a significant geographic area using a sustainable, evidenced-based intervention with measurable outcomes and impact. Each grant will support, for three to five years, activities that align with one or more of Rotary's areas of focus.

The Rotary Foundation will award one grant of $2 million each year in a competitive process that requires a proposal and an application. Applicants should be prepared to include a fully developed and highly sophisticated project design, as well as include baseline data and plans for monitoring and evaluation. The Rotary clubs or districts with the strongest proposals will be invited to submit applications, which will include comprehensive details about the project. The project should involve activities that have proved to be successful elsewhere. Partner organizations can complete the proposal and application along with the Rotary club or district. Incomplete proposals and applications will not be considered.

To get started, download the proposal and application guidelines. Read the terms and conditions and submit your proposal online. The deadline for proposals is 1 March, 2020.
Details
On 23 February, Rotary will celebrate its 115th anniversary. Consider making a special gift to The Rotary Foundation today. When you give to the Annual Fund, you empower Rotarians to make lives better in your community and around the world.
Details
Three 2019 & Three 2020 new Wild Polio cases reported this week. See attached report.

What is that Polio picture? We've Eradicated two of the Three Types of the Wild Polio Virus. Are you ready for the Countdown To History?

It is with great sorrow that the WHO announces the sudden demise of Dr Peter Salama, who passed away on 24 January 2020. Dr Salama contributed to polio eradication at WHO through his work as Executive Director of the Health Emergencies Programme and most recently as Executive Director of the Division of Universal Health Coverage – Life Course.

Vaccine Derived Polio Cases - O Vaccine Derived Polio Cases reported in 2020:
Papua New Guinea - 0 (0 in 2019). CAR - 0 (18 in 2019).
Nigeria - 0 (20 in 2019) Niger - 0 (1 in 2019).
Somalia - 0 (3 in 2019). DRC - 0 (75 in 2019).
Mozambique - 0 (0 in 2019). Angola - 0 (99 in 2019).
China - 0 (1 In 2019).
Ethiopia - 0 (5 in 2019).
Myanmar - 0 (6 in 2019),
Benin - 0 (7 in 2019),
Ghana - 0 (11 in 2019),
Philippines - 0 (15 in 2019),
Zambia - 0 (2 in 2019),
Pakistan - 0 (18 in 2019),
Togo - 0 (7 in 2019),
Malaysia - 0 (2 in 2019) .
Three hundred and two Vaccine Derived Polio cases were reported in 2019.

"Character is like a tree and reputation is like its shadow. The shadow is what we think of it; the tree is the real thing." - Abraham Lincoln

The Final Three Polio Endemic Countries:
Pakistan - Three new 2019 & one three 2020 Polio cases reported this week. Four Polio cases reported in 2020. The most recent cases were from the Khyber Pkhtunkhwa, Sindh, & Balochistan Provinces with an onset of paralysis on 1/7/20. Pakistan reported one hundred & thirty-six Wild Polio cases in 2019. Ten new Polio-Positive Environmental Samples were reported this week in Pakistan.
Afghanistan - One new Polio 2019 case reported this past week. No Polio cases reported in 2020. The most recent case was from the Herat Province with an onset of paralysis on 12/07/19. Afghanistan reported twenty-nine Wild Polio cases in 2019. Three Polio-Positive Environmental Samples were reported this week in Afghanistan.
Nigeria - No Wild Polio cases have been reported in 2017, 2018, or 2019. The most recent Polio case was reported on 8/20/16. Nigeria is to be congratulated on over Three Years without a Wild Polio case!
Our Goal is Global Polio Eradication!!